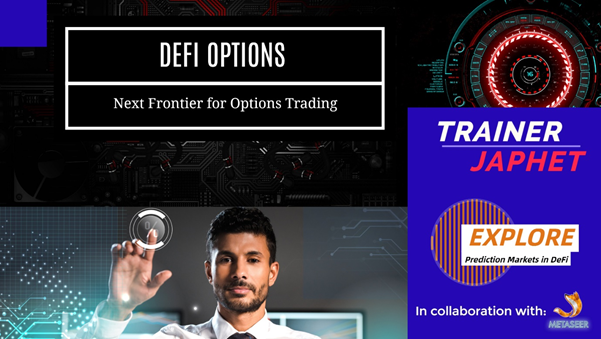 Course Objectives
Understand the basics of Options Trading, understand how it helps you as an individual in your trades and etc
Understand the critical differences between vanilla options, binary options, hybrid options, American Styled options European styled options
Analyze the difference between centralized options trading and decentralized options trading
Know the differences between how a Centralized Options Trading Platform (COTP) and a Decentralized Options Trading Platform (DOTP) works, the differences in their mechanisms, pros, and cons, etc.
Understand the different DOTPs out there and how each of them differs in terms of their product offering
Students will take steps to set up their Web3 wallet, understand critical mechanisms when it comes to trading on a DOTP
Students will experience executing a trade on a DOTP and witness for themselves how this aspect of DeFi works
Applications of the DOTP will be taught to the students, allowing them to efficiently use this tool to their advantage
Pre-Requisites
Basic Understanding of Financial Spot Trading
Laptop with Zoom
200 USD minimum in options trading resources (pls prep your own 200 USD worth of BNB, only students who are outside of crypto sphere can ask for assistance)
Duration:
2.5 Hours with short break of 15 minutes in between
Course Outline:
Centralized Options Vs Decentralized Options
Centralized Options Trading platforms Vs Decentralized Options Trading Platforms
Examples of Decentralized Options platforms (DOTPs)
Hands-On Trading on the DOTP
*Course outline is non-exhaustive and serves only as a reference. There may be updates made to the actual course content and flow based on learners' requirements and feedback
Price
Completely Free of charge
(However please prepare your own resources)
About Trainer
Japhet Lim is Blockchain Instructor for Fintech Academy and currently serves as Co-Founder and Star Trainer for Stock Trading for Reubiks Academy in the field of Blockchain and Cryptocurrencies. He is also the creator of the Reubiks R54 Stock Analytics System, a proprietary stock trading and investment system which has helped thousands of people around the world to find profitable stocks to invest in. Japhet Lim is a certified instructor and has been certified by the World Blockchain Council and the Ivan-on-Tech Academy. Japhet Lim has also completed the London School of Economics course on "Cryptocurrency and Disruption". Japhet Lim also serves as senior consultant to Wipitech, a leading Mobile App development company. Currently, Japhet Lim also currently serves as Head of Blockchain Development for Jigsaw Capital.