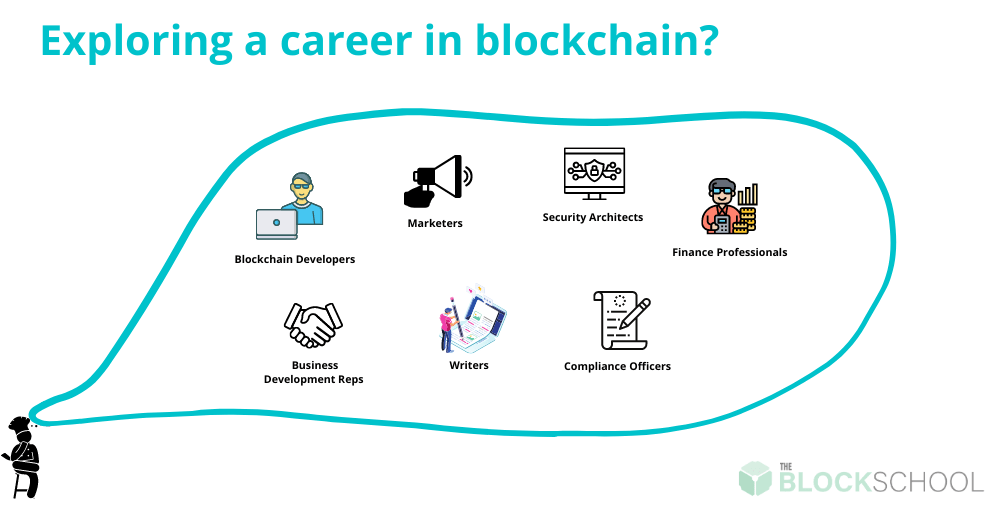 If you heard about blockchain technology recently, your first reaction could be: 'oh! I came in too late'.
Want to know the truth? We're actually just at the beginning!
Blockchain technology holds a lot of potential for further applications, and different projects require different skill sets to come to fruition. Although Bitcoin was created in 2009, over a decade ago; new cryptocurrencies, applications and projects continue to emerge, either as a sole technology or in collaboration with other emerging technologies.
Furthermore, companies from different industries ranging from finance, supply chain, environment (and more!) integrate blockchain technology to improve their operations or innovate processes to reduce costs and enhance performance.
Blockchain and cryptocurrency roles are high in demand. LinkedIn ranks blockchain as the most needed skill of 2020, and it has risen steadily (by 26% between 2018 and 2019).
This means your skill sets could be an asset for various projects – which spells a great opportunity for you to kickstart or advance a career in the blockchain industry!
How can I start?

It's simple, identify your skill sets and start looking out for opportunities!
Common job roles in the Blockchain industry include:
1. Blockchain Developers
Skills requirement: C++, Python, Javascript, Solidity (depending on the blockchain you're building on!)
Every technology needs a developer, right? Yes! Companies, government agencies and individuals willing to incorporate and explore blockchain technology need developers to help them do that.
That makes developers super valuable. They are in high demand and are one of the best-paid employees in the blockchain sector.
A blockchain dev could be a web developer, a smart contract engineer and so on.
Blockchain developers have to monitor trends and changes in the industry, and they must be nimble enough to learn new programming languages relevant to their work.
2. Security Architects
Skills requirement: Natural Language Processing (NLP) algorithms, education in computer science, data analysis.
In blockchain, code is law right?
Once the code is secure and working as stated, blockchain technology is tamper-proof. However, developers are still human and human errors can prove to be fatal to the protocol. Security is, therefore, a crucial task that must be integrated into blockchain development. Blockchain is both a store of value and sensitive data, and it must be built to be tamper-proof and free of bugs.
Cryptocurrencies are a target for hackers in particular, and millions of dollars worth of cryptocurrency have been stolen. Recently, Kucoin was hacked and over 150 Million USD was carted away. Coinhack ( 535 Million USD), Bitgrail (194 million USD), Coinrail ( 35 Million USD) and Bithumb ( 30 Million USD) are notable attacks on cryptocurrency platforms and exchanges over the years.
A security architect deploys tools and systems to safeguard data and transactions.
3. Finance Professionals
Skills requirement: Education and certification in finance; analytic, computational and mathematical skills.
The nexus between blockchain and finance often lies in the hands of financial experts, whether they are experienced in the banking system, financial technology, investment or analysis.
Case in point: Wall Street firms such as JP Morgan Chase have ramped up hiring for blockchain personnels and is hiring for more blockchain jobs as compared to other Wall Street firms.
Finance professionals can help with identifying better use cases of blockchain for payments and transactions, as their experience can help monitor and identify pain points of users in processing transactions. Their understanding of internal financial processes can be transferred to projects facilitating cross-border payments, for instance.
4. Blockchain Legal and Regulatory Compliance Practitioners
Skills requirement: Knowledge of international law, knowledge of blockchain technology, critical and analytical reasoning.
Not all legal processes can be automated. While smart contracts can be created, not all legal and regulatory processes can be subject to code.
Legal practitioners are needed to ensure that effective agreements are created between contracting parties. Asides that, blockchain technology and cryptocurrency require compliance with existing regulations, necessitating the services of lawyers and other compliance practitioners.
Sui generis (one of a kind)laws are also being created across different countries. People with expertise in law and compliance and an understanding of blockchain can help establish laws that regulate innovation without stifling it.
5. Research Analysts and Technical Writers
Skills requirement: Writing skills, research and knowledge of blockchain technology.
Research is important in all industries, and blockchain is no exception. Writers are also needed to translate such research into digestible content, whether they are educational or sales-oriented.
Blockchain is a novel technology. Numerous people do not understand what it means and the potential it has, so researchers and technical writers can help increase adoption by creating educational content.
Education leads to adoption because people would only be comfortable using what they understand.
So if you are a researcher or writer, here's your chance!
6. Business Development Representative
Skills requirement: Sales, marketing, and finance.
Are you good at striking business deals and closing sales? If yes, then opportunities await you.
Blockchain projects require financing, sales and investment; anyone who can help businesses achieve these, they have important roles they can fit in in the industry.
With your strategic decision making, sales experience and marketing skills, you will be needed to push projects towards adoption. With your help, companies will be able to seek alliances and partnerships to scale their projects. That way, you can help them scale up.
7. Marketers & Community Managers
Skills requirement: Social media, inbound marketing, strategy, community management.
Are you always stalking crypto OGs on crypto twitter? Involved in multiple crypto communities in Discord, Telegram, Reddit and BitcoinTalk? Then you should definitely put your skills to good use!
Marketing and community management are especially essential in the blockchain industry – what's the point of a great technology/platform if there is no community behind it? With your marketing and community managing skills, you can help to bring blockchain projects to the next level by engaging with their communities and end users.
What should I do next?

If you possess one (or more) of the skill sets highlighted above, that's great! The best way to proceed will be to start looking out for opportunities in the industry.
Take note that this list is not exhaustive. No list can be. The skills you have at the moment can be of great help in the industry – whether you are a graphic designer, accountant, manager, project manager, and so on…
Where can I find such jobs?
Check out our blockchain & crypto job feed here!
Alternatively, LinkedIn is a superb platform to connect with people in the industry. It also features vacancies from different companies across the globe, and you can apply for some with just a few clicks.
You can also explore general and industry-specific job boards and listings such as:
Industry-specific job portals
Generic job portals
How can I learn more about Blockchain?

Roles like graphic design might not require extensive blockchain knowledge, but most jobs require substantial knowledge of blockchain technology.
Numerous online resources are available for you to learn more about blockchain technology.
Join us on social media (Telegram, Twitter, FB) and check out our blockchain courses!
Other resources:
Conclusion
Take the plunge and explore a potential role in the growing blockchain sector!
Prepare your resume, brush up your knowledge and get a leg (whether physically or remotely) in the door of a potential blockchain employer today!
Check out our recent sharing on career opportunities in this space.